Technology
We are facing a massive learning curve. One of the difficulties is that there is not a "one size fits all" solution across the justice system due to different technology being available in different courts and due to the different demands of individual specialism.
The Tech group will work to provide solutions to the question of how we get back to work in the safest way possible, which is going to be due to remote access. This will involve working with the courts and tribunals on our Circuit. It will also involve collating information which is produced at a national level.
The challenge is not just about how to connect to the court but about how to work remotely without paper. The focus has to be on getting hearings running again but in due course it is hoped that we can all be provided with some assistance as to how to go paperless.

It is hoped that the Tech group will be able to provide "how to guides". Please remember that they are not Siri. They are not your personal tech gurus. By all means email them with difficulties you have encountered to inform the solutions they produce but they are not, nor can they be, a helpdesk.

Communications

Information and acquiring information is absolutely key. The Comms group will seek to collate the information and provide you with summaries of what is happening and where to go for more detail. This is will be information as to the operation of courts, government advice, funding issues, tech issues, Bar Council guidance etc.

It is imperative that you make sure you have access to the information. Make sure that your chambers have a method of disseminating information amongst yourselves. When you see something emanating from the Circuit, please make sure it is distributed to all your chambers. Do not just wait for the information, seek it out. Create a WhatsApp group for your area of specialism in chambers and share relevant information.

The Circuit now has a dedicated Twitter account @CircuitNorth. For the time being this account will only be used for information concerning the current situation. Even if all you do is follow this account, get yourself on Twitter and you will be better equipped with knowledge.

Plainly these are worrying times. Whilst this is, for many of us, a vocation it is also our business. The Business and Finance group will assist us all in establishing what assistance is there for us, both personally and for our chambers. It will particularly concentrate on any schemes produced by the Government and how they apply to our businesses. If any member of the Circuit finds themselves in financial hardship, please ask for advice as early as possible. It may only be the advice of where you need to go next, but it is vital you take early steps if you are in difficulty.

This is absolutely vital. Look after yourselves is not just about physical health. These are difficult times. The Wellbeing team will provide you with information about where to turn and what resources there are already in place. We will face issues about isolation, possible bereavement and financial worries. All of these will take their toll. As a Circuit we look after each other. If you need help or just someone to speak to, please be in contact.

Advice and Ethics

We are in uncharted territory. We have a broad range of senior practitioners across many disciplines to provide you with assistance. We have junior practitioners ready to provide their perspective and, if necessary, someone more contemporary to you than a bunch of Silks maybe for you to speak you.

An awful lot of issues can be sorted out through your chambers. Pease use the valuable talents, experience and knowledge of your clerks and heads of chambers first. But also know we are here if you have not been able to resolve the issue. This may be advice about an ethical issue, a problem with listing your clerk and your chambers have not been able to resolve or any issue with a judicial officer holder that you feel requires intervention. We will listen and we will put you in contact with someone that can advise or intervene on your behalf.

An exception exists for pupils and those under 18 months experience. If you do not feel able to raise an issue with your chambers please do not hesitate to contact me. I will deal with your concern entirely confidentially. Do not worry in silence.

SPOCS

We all have some common issues, we also have some which are particular to certain areas. The SPOCS are there first and foremost to ensure that the Circuit always has someone to turn to for those bespoke issues. They are also there for you to raise such issues but remember that your heads of chambers and Specialist Bar Associations are your first port of call. 

The Circuit response has been one of collective endeavour. It has been one of real strength. Thank you to everyone who is contributing. We all owe a great deal of thanks to Lisa Roberts QC who has worked tirelessly on our behalf. It is time to share the load.
                      JAIME HAMILTON QC

on behalf of the CTF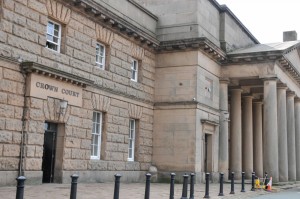 "The Circuit response has been one of               collective endeavour. It has been one of          real strength."
       Circuit Lead
       Jaime is also our Lead re Advice, Ethics &         Pupillage